Singapore medical society of the united kingdom
Events
The Annual Dinner is SMSUK's most attended event. We celebrated our 25th year in service this year. It will be an evening where you and your medical/dental friends from all over the UK can come together for a formal dinner to network, catch up and reflect on the past year. For our graduating members, this will hopefully be an event that will bring a smile to your faces and motivate you as you approach your final exams! Our Alumni Members are also invited to this memorable event, making it an even more special occasion.
annual medical conference
The theme for the 2018 MMI UK x SMSUK x AMSA Medical Conference was "White Coats, What Next, and Where To?". The one-day conference began with a career-focused morning symposium and a panel discussion on working abroad. The packed afternoon lineup consisted of a poster presentation competition and 9 workshops that encompassed CV construction, surgical skills, and postgraduate/intercalation training options. To our delegates, we hope your day was enriching and helped you make better-informed decisions about your future careers!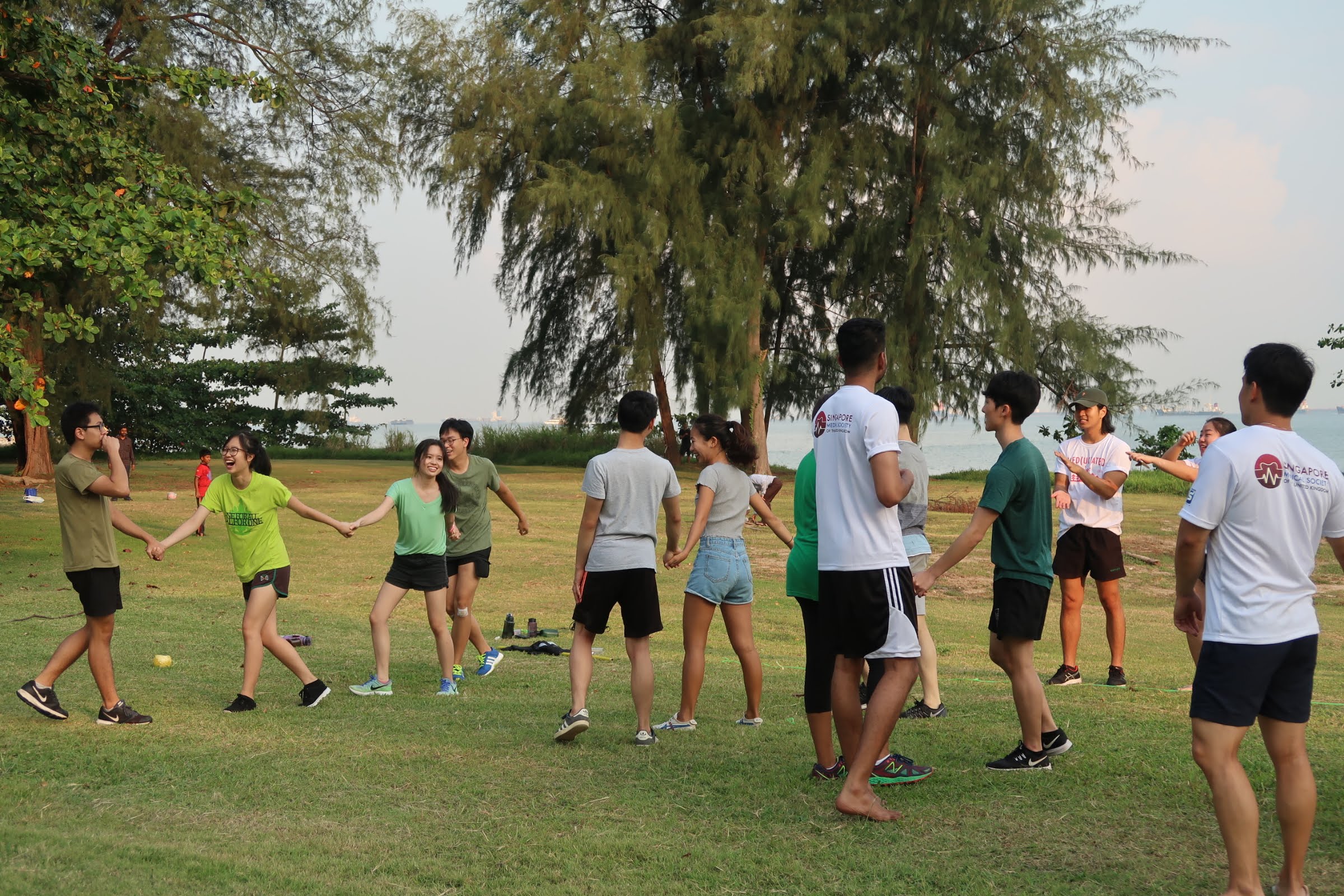 SMSUK's annual Orientation Camp, "MED(UK)ATED" is the highlight of SMSUK's summer event calendar. MED(UK)ATED features three fun-filled days of group bonding activities, such as ice breakers, flag designing, choreographing group cheers, day and night games, island-wide Amazing Race, and war games. Senior students and alumni from various UK universities will also be sharing anecdotes of life abroad and bond with their would-be juniors.
The British Council hosts the annual Pre-Departure Fair for incoming freshers. This multi-society event features over 50 student societies and organisations. SMSUK will be present to field questions from prospective UK medical students, introduce prospective members to the society, and promote our summer freshers' events. This event is usually a wonderful opportunity to engage the wider student body and kickstart our event calendar for the year.
Over the summer holidays, SMSUK will head down to various schools all over Singapore to hold the annual JC talks and set up information booths. The JC talks aim to provide essential information to potential medical and dentistry students about the application process so that they can make a more informed decision about studying overseas. During the talk, we will address the factors to consider when choosing a school, and give practical advice about various stages of the application such as admission tests, writing a solid personal statement and acing the interview. Alumni will also be sharing their personal experiences of studying overseas as well as helpful tips and tricks.
freshers, members & alumni dinner
The annual Freshers, Members and Alumni Dinner is a free event with a panel of speakers who have graduated from the UK and are currently practicing in Singapore. The speakers from range across different years and sectors of medicine, and will discuss their experiences, Singapore's needs and how overseas medical students and young doctors can best adapt back to the Singapore healthcare scene. For the freshers, this is also an opportunity to meet your university representative to ask all your pressing questions, as well as other freshers that you will spend the next few years of your life with.
nuhs residency open house
singhealth residency open house
This summer, we have put together a clinical workshop and a lecture series. The workshop, titled "Surviving Your 1st On Call", provides participants with opportunities for practicing clinical skills such as venepuncture and ABG under simulated clinical situations. This is targeted to upcoming Y4-Y6 Clinical students. The lecture series, titled "Understanding Local Patterns and Management of Disease", provides students with an insight on local diseases (Dengue, TB, HIV) in Singapore. This is free and opened to all upcoming Y2-Y6 students.
Additionally, with the help of Viriya Community Services, we also organised a four-lessons series of Hokkien Classes. The curriculum is geared towards health-related topics and practice conversations are mostly dialogues with the elderly.
Medics Unifying Supporting Educating (MUSE) is organised by our alumni from the different healthcare clusters who will run a fun-filled, interactive half-day workshop on common on-call scenarios, clerking new patients, using hospital computer systems and much more. Participants will be equipped with the essential skills to thrive and excel as House Officers in Singapore.
The annual Dental Dinner serves as a networking platform for all our dental members to forge new friendships, share knowledge gems, and catch up with old friends. In 2018, we were fortunate to have Dr Tham Sai Soo grace the event. Dr Tham is the assistant director of Youth Preventive Services for Singapore's Health Promotion Board, and she kindly shared her working experiences as a senior dentist.
2019 marked the first time SMSUK embarked on a weekend getaway outside the United Kingdom, and Malta seemed the perfect destination for members to kick back, relax and enjoy the Mediterranean sun. This would be a memorable weekend of unique experiences and treasured friendships.
In 2018, the Wider UK Day Trip was to Britain's first national park - Peak District. Highlights include the hike up Stanage Edge, Mayfield Alpaca Farm, and ending the day with a well-deserved pizza feast at Allen Court. This is a great opportunity for members to travel out from their respective universities for a quick trip to explore a part of UK with their friends.
In 2018, SMSUK members gathered in London to catch up over a showing of the highly acclaimed musical CHICAGO at the Phoenix Theatre. As Velma and her gang would say - "They had it coming!" and we sure did! Dinsical is a great night to reconnect with old friends and make new ones.